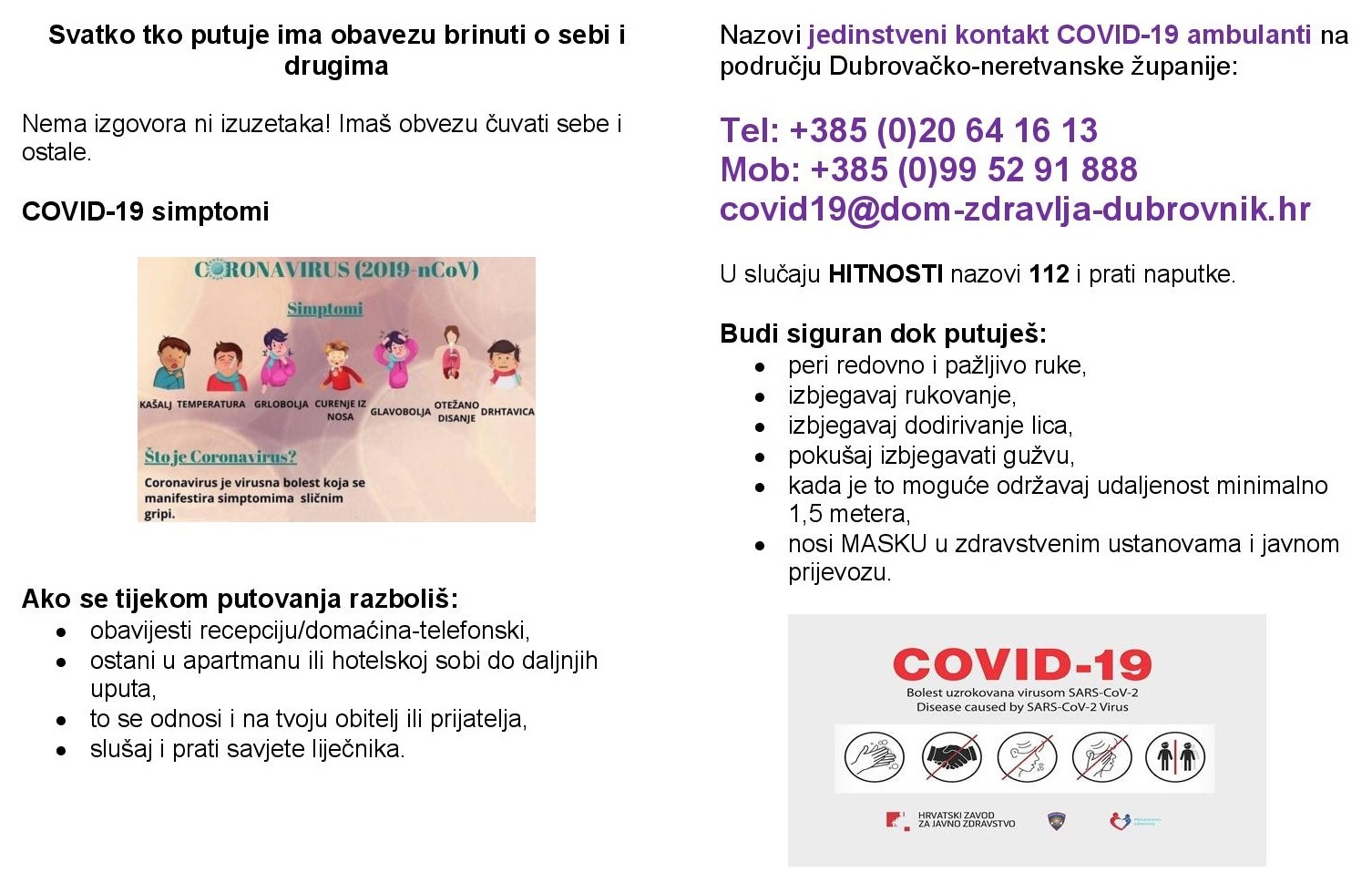 Svatko tko putuje ima obavezu brinuti o sebi i drugima
Nema izgovora ni izuzetaka! Imaš obvezu čuvati sebe i ostale.
Ako se tijekom putovanja razboliš:
- obavijesti recepciju/domaćina-telefonski,
- ostani u apartmanu ili hotelskoj sobi do daljnjih uputa,
- to se odnosi i na tvoju obitelj ili prijatelja,
- slušaj i prati savjete liječnika.
Nazovi jedinstveni kontakt COVID-19 ambulanti na području Dubrovačko-neretvanske županije:
tel: +385 (0)20 64 16 13
mob: +385 (0)99 52 91 888
covid19@dom-zdravlja-dubrovnik.hr
U slučaju HITNOSTI nazovi 112 i prati naputke.
Budi siguran dok putuješ:
- peri redovno i pažljivo ruke,
- izbjegavaj rukovanje,
- izbjegavaj dodirivanje lica,
- pokušaj izbjegavati gužvu,
- kada je to moguće održavaj udaljenost minimalno 1,5 metera,
- nosi MASKU u zdravstvenim ustanovama i javnom prijevozu.
Anyone travelling has a duty of care to themselves and to others.
There are no excuses and no exceptions! You have a responsibility to keep yourself and others safe.
If you become sick while travelling:
- inform your host/reception,
- isolate yourself and seek medical attention as soon as possible,
- your family and/or group members must isolate, as well,
- listen and obey the medical advice.
Call the COVID-19 clinic for Dubrovnik-Neretva County:
tel: +385 (0)20 64 16 13
mob: +385 (0)99 52 91 888
covid19@dom-zdravlja-dubrovnik.hr
In case of emergency call 112 and follow instructions
Keep safe while travelling
- wash your hands regularly and thoroughly,
- avoid shaking hands,
- avoid touching your face,
- try and stay away from crowded places,
- where possible, maintain at least 1,5 meters between yourself and others,
- wear a mask while in health centres and in public transport.
COVID-19 Tourist Information/Informacija za turiste
Ažurirani popis turističkih i COVID-19 ambulanti na području Dubrovačko-neretvanske županije